Stella's Web Page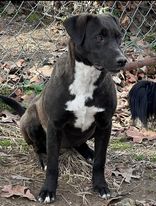 This is a courtesy post for Gail's Pets Second Chance
Name: Stella
Status: Adopted!
Please Note: This animal is listed as a courtesy to another organization. Please be sure to contact the foster/caretaker for more information about her.
Species: Dog
Breed: Labrador Retriever / Mixed (short coat)
Learn more about the Labrador Retriever.
Pattern: Bicolor
Sex: Female (spayed)
Current Size: 50 Pounds
Potential Size: 50 Pounds
General Potential Size: Medium
Current Age: 5 Months 29 Days (best estimate)
Activity Level: Moderately Active
Indoor or Outdoor: Indoor Only
Good with Dogs: Yes
Good with Kids: Yes
Description:
We have 3 new additions to the rescue! Meet
Stella
(lab mix who loves balls)
Honey (beagle mix who loves everything)
and
Shep ( border collie mix that loves to play).
All 3 were dumped together before the really bad weather and somehow survived! A very kind couple contacted Gail to help them. All 3 of them are the sweetest souls! They will be adoptable after their vetting in a couple of weeks! Stay tuned for updates on these sweethearts!
Other Pictures of Stella (click to see larger version):
50ms